World Marine Wins Bid to Repair USACE Dredger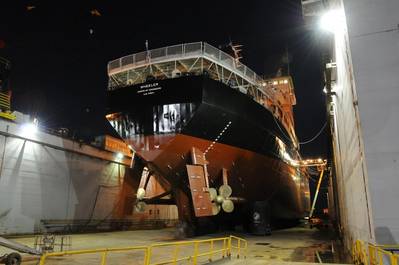 World Marine of Alabama (WMA) said it has won a contract to drydock and repair the Dredge Wheeler, a hopper dredge owned and operated by the U.S. Army Corps of Engineers (USACE).
Since the Wheeler's commissioning at Avondale Shipyards in 1982, WMA's facility in Mobile, Ala. has drydocked and repaired the Dredge Wheeler on many occasions, including a complete repowering of the vessel in 2012. As the largest and most powerful hopper dredge in the USACE fleet, the Dredge Wheeler is a 408-foot trailing suction hopper dredge with a hopper capacity of over 8,200 cubic yards.
The dredge ship is expected to arrive at World Marine October 9 for a project duration of approximately 60 days. The bonded repair package includes drydocking, hull painting, double-bottom tank blasting and coating, hopper door repairs, steel renewals, dredge and jet pipe repairs, bow thruster overhaul, emergency generator replacement, pump and valve overhauls, as well as tailshaft CPP system repairs.
"Our shipyard continues to complete work packages safely, on time and on budget for our customers at competitive prices. This upcoming project on the Dredge Wheeler will be no different," said Robert Beckmann, senior vice president and general manager of WMA. "It is anticipated that we will add approximately 65 craft personnel to sustain our workforce during this project," he said.
The Dredge Wheeler maintains waterway channels from Key West, Fla., to Brownsville, Texas. The USACE dredge is kept in a state of readiness for worldwide operations, with the majority of its time spent operating in the Southwest Pass of the
Mississippi River
, dealing with shoaling problems that occur during high and low water.