Drydocks World Awarded British Safety Council Sword of Honor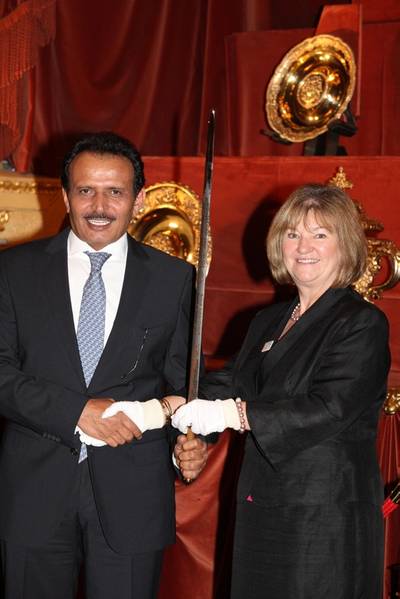 H.E. Khamis Juma Buamim, Chairman of Drydocks World and Maritime World the international provider of maritime services to the shipping oil, gas and energy sectors received the prestigious Sword of Honor for 2013 from the British Safety Council. The award was presented in the presence of Ms. Judith Hackett CBE, Chair of the UK Health and Safety Executive, Ms. Linda Armstrong, President of the Board of the British Safety Council and H.H. Sheikh Mohammed bin Maktoum bin Rashid Al Maktoum, First Secretary of the Embassy of the United Arab Emirates in London at a ceremony attended by many dignitaries, chairmen and top management executives of both British and global institutions and companies

A series of audits by reputed international companies has proved beyond a doubt the company's excellence in leadership, business strategy and its exemplary vision of in institutional health, safety and environment, Drydocks World has maintained an extremely high level of leadership excellence in all of its systems and long term policies while inculcating a strong culture towards HSE based on the concept of "Zero Harm' in all of its operations including the building of sophisticated cutting edge projects for its major global partners.

Buamim held discussions with a number of leaders of British and international companies relating to the future of the business and possible partnerships for the development of the marine and maritime sectors. Wide ranging discussions included topics on finding solutions to meet present and future challenges, ways to strengthen productivity and efficiency, potential to attract investments and methods to stimulate the industrial development of the sector through the exchange of expertise and knowledge. Drydocks World already has very strong ties and alliances with a number of British companies in the maritime industry such as Shell, British Petroleum, Andrews Maritime Agencies Ltd. , Maersk Inc and Premier Oil to mention a few.

The aspect of Leadership Excellences becomes even more prominent when one considers that the company recorded an outstanding score of 96% in Customer Satisfaction in 2013 where clients rated the company in relation to 29 factors related to client and stakeholder satisfaction. These include areas of senior management leadership, continued commitment to develop, manage and implement projects, administrative and technical services, health, safety, security and environment, implementation phases of diversified projects and business operations, and the tendering, execution and delivery of projects. Ratings were independently provided by a variety of stakeholders and business partners including clients of recently completed and ongoing projects. Respondents were unanimous in their evaluation that services provided to them were best in class and at a level which exceeded their expectations.

Drydocks World said it has maintained a global record in completing 30 million man hours of work without the occurrence of any major incidents during the year 2013 in all of its operations.