Eastern Pacific Shipping to Trial Biofuels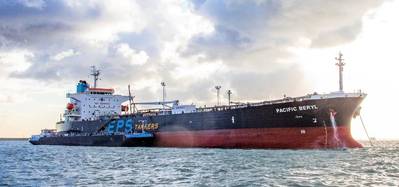 Singaporean-based Eastern Pacific Shipping (EPS) said it will trial biofuel bunkers aboard its 2010-built 47,377 dwt MR tanker Pacific Beryl.
EPS, which has said it aims to test various alternative marine fuels in an effort to reduce its greenhouse gas emissions, has appointed Dutch-based GoodFuels to supply the biofuel bunkers.
"Alternative marine fuels are essential transitional fuels that will pave the way towards industry-wide decarbonization and the preservation of the environment for future generations," EPS said in a statement.
The bunkering took place in Dutch waters on October 9. GoodFuels supplied EPS with a residual-fuel equivalent Bio-Fuel Oil (BFO). The BFO's performance will be tested and analyzed on Pacific Beryl as well as other classes of EPS managed ships in the near future, EPS said.
The trial highlights the need for shipowners and managers not to take a wait-and-see approach toward decarbonization, according to EPS CEO, Cyril Ducau. "We are fully committed to investing in and taking action to lower our carbon footprint today. At EPS, we believe that sustainability begins with accountability, which is why we are taking a mixed marine fuel approach towards reducing our emissions," Ducau said.
"We are already implementing liquefied natural gas (LNG) and liquefied petroleum gas (LPG) across 30 of our newbuilds, but we need to look at other options for our existing fleet." Ducau continued. "Biofuels, such as the advanced, sustainable biofuels supplied by GoodFuels, provides us with a solution that matches our values and sustainability agenda. Our whole team is looking forward to the results of this trial and expects biofuels to be another example of not letting the perfect be the enemy of the good."
Bart Hellings, Chief Operating Officer at GoodFuels, called the EPS trial "another important milestone in accelerating the energy transition within shipping", noting the "carbon-busting solution" is "scalable, truly sustainable, technically compliant and affordable".
EPS joins a number of shipping companies to have tested GoodFuels' biofuel on the path toward decarbonization. Other noteworthy references include CMA CGM, Stena Bulk, Jan De Nul, UECC, Jumbo, Boskalis, MINSHIP and BHP.
"Together, we are showing the shipping industry, and the world, that sustainable solutions to reduce the environmental impact of operations already exist on the market – and that advanced marine biofuels will play an important part in the future alternative fuel mix," Hellings said.