Torqeedo Powers Eco-Friendly Water Taxi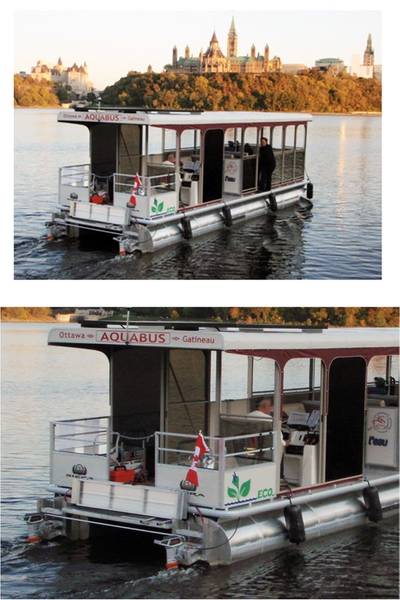 Aquabus, a new water-taxi service in Ottawa, Ontario, promises elegance and silence on an eco-friendly boat.
For a clean, quiet river cruise, Au feel de l'eau (Go with the Flow) is powered by electric motors from Torqeedo. "We were sold on Torqeedo because it's a light, powerful outboard that's waterproof and easy to remove," said Jean-Marc Hénot, who owns Au feel de l'eau with his wife, Sylvie Lyonnais. "The Twin Cruise 4.0 R makes it easier to maneuver the boat. We also like the long running time." Torqeedo's innovative propeller design delivers a cruising speed of
6 knots, with a top speed of 12 knots. Supplying 16 hp on 48V, the motors are the highest efficiency outboards in their power class with propulsive power equivalent to an 8 hp gas outboard.

In addition to having no environmental impact, Hénot wanted Aquabus to be powered by ultra-lightweight batteries. At only 55 lbs.each, the Torqeedos were perfect. Twin throttle displays make it easy for owners to monitor battery charge status, remaining range, speed over ground and input power. The motor is designed for connection with a standard remote steering system and comes with a tie bar to connect both motors. The 30' x 10' canopied Aquabus operates between May and October on the Gatineau and Ottawa rivers. Up to 12 passengers travel to the Museum of Civilization and Casino du Lac-Leamy.

Lyannaise said the service fits well with Ottawa's clean image. "It took only a hundred years for someone to come up with this idea," she said, repeating a customer's comment. "Our passengers really like the lack of noise and smell. And the engine's small size makes them smile."