Breakwater's Effectiveness Proved by Research Institute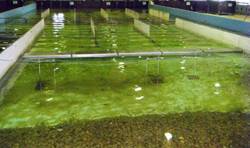 Experts are professionals who are curious and never stop learning. To better understand how breakwaters function and to perfect their products, SF Marina's team collaborates with professional research institutes throughout the world. Recent testing of their new SF Type 600 floating breakwater confirmed the predicted wave attenuation was correct.

"Nothing is straightforward about the physics of waves," said SF Marina CEO Lars Gunnar Odhe. "Through research and extensive testing, we improve our knowledge so we can offer the customer the best solution for their situation." The SF Type 600 concrete breakwater was tested by the Water and Environmental Engineering Research Group at the University of La Coruna in Galicia, Spain. A 1/15 scale model represented a 328' floating breakwater. Moored on a chain, the model was floated in a basin that measured nearly 112' L x 105' W x 4' D. A total of 52 tests were conducted. Conductive sensor probes analyzed wave heights, transmission coefficients and reflective wave properties.

Engineers from SF Sweden, SF Marina USA, SF UAE, MSI (SF France/Spain), SF Turkey, engineers and staff were gratified when the tests confirmed that the SF Type 600 performed as SF Marina had predicted. In addition to this trial, this floating breakwater design has been successfully exposed to ice stress. A smaller version, Type 400, was earlier tested by the INHA Wave Laboratory in Barcelona, Spain. With each section measuring 66' L x 20' W x 8' H, rugged SF Type 600 concrete breakwaters are designed to combat high seas and severe storms on large bodies of water. Virtually unsinkable, the state-of-the-art floats are constructed from high-quality, reinforced concrete and styrofoam for superior strength, stability and buoyancy. The floating breakwaters have a service life of 30 to 50 years. Using an advanced mooring system, the durable structures are traditionally secured with chains and concrete or hot-dipped galvanized steel anchors. Alternative mooring methods employ Sea-Flex and piles.

The SF Type 600 breakwaters are available in standard sizes or are customizable. Also, wider and bigger units are under development. Helping marinas expand into unprotected water, they are easy to install or move as needed.
SF Marina Systems has been designing concrete floating structures for over 90 years. Their continued research and development has led to an evolution in the technology, providing larger floating breakwaters and better concrete float designs.