Navis Engineering Delivers DP System for Viking Grace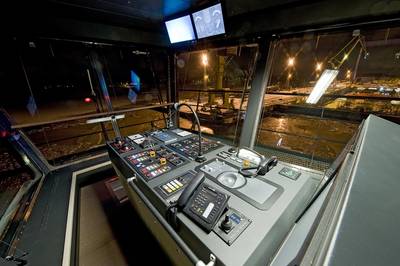 Finland-headquartered DP manufacturer Navis Engineering has delivered its dynamic positioning system for the innovative cruise ferry Viking Grace.

The 214-m long Viking Grace, delivered to her owner Viking Lines by the Turku-located STX Europe shipyard on January 10, 2013, is said to be one of the most environmentally-friendly ships built. It is the first large scale passenger ferry to be powered by liquefied natural gas, which reduces emissions significantly.

The DP system delivered by Navis Engineering is a non-redundant DP0 (joystick control system) solution comprising two control stations located in the wheelhouse wings. It will be used mostly for docking the cruise ferry at points on the Turku – Mariehamn – Stockholm route.

Viking Grace is one of the several innovative vessels equipped with the Navis DP system. These include the ice-class OSV Vitus Bering, delivered last week to the Russia's largest shipowner SovComFlot, the multi-purpose bio-fuel powered deck cargo vessel Aura II and the series of 30 axe-bow FSIV vessels built by Damen.