STRUT Marine Acquires Paul Pfaff Enterprises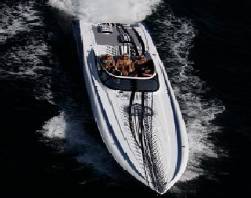 Huntington Beach, CA—April 18, 2011—STRUT Marine, a full-service Marine Facility for offshore high-performance boats in Southern California, has announced the acquisition of Paul Pfaff Enterprises of Huntington Beach, CA. Pfaff is recognized as one of the country's premier builders of engines for offshore performance boats and off-road performance vehicles. The purchase, which was completed on March 31, 2011, includes Pfaff's entire facility for building and testing engines, as well as the company's performance parts store. STRUT Marine has also retained the services of longtime industry expert, Gordon Jennings.

STRUT Marine was founded in 2010 and is owned by Scott Struthers and Geoff Spencer, two entrepreneurs with a portfolio of successful companies in the audio, automotive, and marine industries.

Commenting on the announcement, Tommy Gaut, General Manager of STRUT Marine, said, "The completion of this acquisition represents a significant step forward in the future growth of STRUT Marine. Joining forces with Paul Pfaff, a legend in the offshore-boating industry, enables STRUT Marine to offer first-class, gold-standard service without compromise, all in one convenient location for our select clientele."

Paul Pfaff also commented saying, "I am very proud of the company that we've built and the team of people who helped us maintain our high standards of quality and performance. STRUT Marine shares this passion and I am confident that with their leadership and direction, it will continue to flourish and succeed into the future."

As the 2011 offshore racing and poker run circuits get into full swing, watch for STRUT Marine's 47-foot, custom-made Outerlimits Offshore Powerboat with the distinctive STRUT shield.
Source: STRUT Marine