Equinor Sells Its Oil Terminal in the Bahamas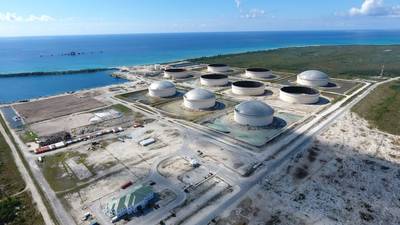 Norwegian energy company Equinor announced it has entered into an agreement to sell its oil terminal in the Bahamas to Estonian logistics and investment business Liwathon. Financial terms of the deal were not disclosed.
The South Riding Point oil terminal at the Grand Bahama Island, commissioned in 1973 was purchased by Equinor in 2009 to enable the company to trade oil primarily originating from the American markets. The facility comprises 10 large storage tanks with a capacity of 6.8 million barrels (1,100,000 cbm) and includes a Sea Island that facilitates the berthing of oil tankers up to very large crude carriers (VLCC).
"Since we bought the South Riding Point terminal in 2009, the flow in the oil market in North America has changed significantly for Equinor and the company has increasingly sold crude to other regions globally. Consequently, we believe a new owner would be better positioned for the further development of the terminal," said Alex Grant, Equinor's senior vice president for Crude, Products and Liquids.
"This transaction supports our strategy to focus and concentrate the portfolio around core areas and allows us to redeploy capital where we believe we have a stronger competitive advantage. Liwathon will now take over ownership and commence a process to restart regular operations of the South Riding Point terminal."
The transaction has received approval from Bahamian authorities and will see Liwathon assume responsibility for the terminal's employees.
In September 2019, the South Riding Point terminal was in the direct path of Dorian, a violent category five hurricane, and sustained extensive damages including an oil spill which affected the terminal site and a forest area north-east of the terminal.
Since then, extensive clean-up operations have been performed by Equinor in close collaboration with Bahamian authorities. The clean-up operations outside the fence were concluded in March 2021 and extensive testing of the groundwater outside the terminal has shown no sign of hydrocarbon deposits.
The terminal will have a phased launch in 2023 as part of a $100 million relaunch, Liwathon said.