New Oil Spill Response Equipment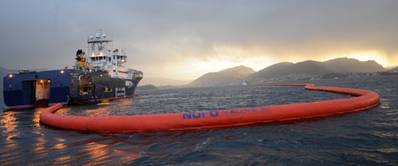 The new SECurus system uses infrared cameras and radar to allow oil slicks to be monitored and collected.

The new system makes it easier to see and remove the oil both during the day and at night, which is particularly important in the far north where there is little daylight in the winter months.

The new system is operated from a vessel, and utilises both an infra-red camera and a newly developed radar system to monitor and collect information about the oil-spill. Normally aeroplanes and helicopters are used to monitor the situation, but these are not always available. With monitoring now possible from vessels already in the area, this new tool brings considerable benefits.

By measuring differences in temperature, the SECurus distinguishes between the thick and thin areas in an oil slick, enabling oil spill removal efforts to be concentrated in areas where environmental damage can be hindered most effectively. The SECurus information can be shared interactively, in real time, between the emergency response vessel and the land-based organisation. This means that documentation is improved and the emergency response situation is considerably simplified.

SECurus was developed jointly by the Aptomar company, Statoil, ENI and the Research Council of Norway to boost the efficiency of challenging oil spill response operations in cold, dark areas close to the coast. Innovation Norway also played an important role in establishing and developing Aptomar.