CSAV New Car Carrier Service From Port Everglades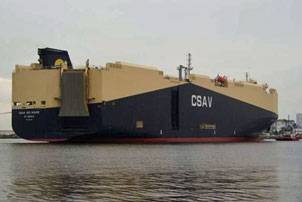 Chilean line Compañίa Sud Americana de Vapores (CSAV) started its first vehicle carrier service at Broward County's Port Everglades. CSAV's new Pure Car Carrier (PCC)/Pure Truck Carrier service sails every other week from Port Everglades using Florida International Terminal, LLC, (FIT) for cargo handling.

"This is the second new shipping service that CSAV has started at Port Everglades this year. This signals a positive boost to the trade in South Florida," said Port Everglades Director Phil Allen.

CSAV's Gran America service route transports a mix of automobiles, trailers, tractor and other rolling stock equipment to and from Port Everglades to ports throughout South America.

CSAV began a new weekly Far East service, America Express (AMEX) to Port Everglades in May. Together, the AMEX and PCC services are expected to generate an estimated $1.2 million annually for Port Everglades.

CSAV is a Chilean shipping company that is currently the largest in Latin America and among the top 10 worldwide.