Expanded HOTA Facility to Hold Naming Ceremony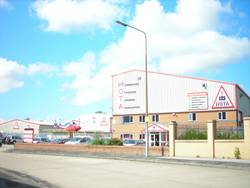 Lord Cullen and Linda Ellis are to be honored in the official naming ceremony of the newly-extended HOTA facilities on the training provider's Malmo Road site in Hull on Thursday, September 22, 2011.

Staff members suggested ideas for the naming of the two sites on Sutton Fields Industrial Estate with the final selection being made by HOTA's Board of Directors. It was a unanimous decision to name the buildings after Lord Cullen, long-standing supporter of HOTA and Chairman of The Piper Alpha Disaster Inquiry and Linda Ellis, General Manager of HOTA for more than 23 years.

Lord Cullen's first contact with HOTA was in 1992 when he made an official visit to the then newly-built survival center. "A commemorative plaque was hung to celebrate Lord Cullen's visit at the time, and, although the site and facilities have developed dramatically since then, the plaque remains in its original place," said Linda Ellis.

"It seems only fitting that Lord Cullen should be a part of the new phase, as he is a very well respected figure in industry and has always been supportive of HOTA's initiatives and development," added Linda.

The official naming ceremony is the latest event in what has been a very busy and exciting year for the Hull based training organisation. The newly-extended, purpose-built center, The Ellis Building, welcomed delegates for training in June. An open evening was held as part of Hull Business Week 2011 with the event showcasing the first class training facilities. The evening proved to be very successful.

HOTA will also be exhibiting at the Offshore Europe Exhibition taking place in Aberdeen in September when it will be promoting the area as part of the Team Humber Marine Alliance stand. In November 2012 HOTA will be celebrating its 25th Anniversary.