Senate Panel Ponders Expedited LNG Export Reviews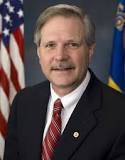 U.S. lawmakers on the Senate Energy Committee will vote on a bill this week aimed at speeding up the Department of Energy's review of liquefied natural gas export applications.

The panel will weigh a bill introduced by Senator John Hoeven, Republican of North Dakota, over the summer that would require the DOE to issue a decision on gas export projects within 45 days after companies have filed an application with the Federal Energy Regulatory Commission.

While the bill may be able to pass the committee, where LNG exports have bipartisan support, it is unclear whether the measure will get a vote before the full Senate this year, with Democrats still controlling the chamber.

Legislation to streamline the review process for LNG exports could face better prospects of making it into law next year when Republicans take over the Senate.

Hoeven's bill would require rulings on LNG export applications sooner than a measure that passed the House in June.

The Senate panel will take up the legislation on Thursday at 3 pm ET.

The approved House bill set a deadline for the Energy Department to act on applications 30 days after FERC has completed its environmental analysis of an LNG export project.
Reporting by Ayesha Rascoe