UK Shipyard Gives Grads Workplace Experience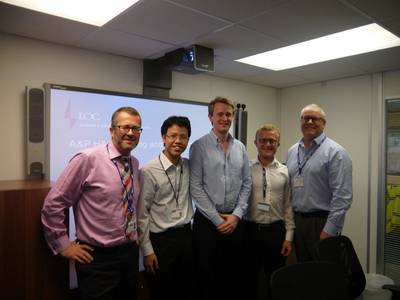 A&P North East Shipyard recently welcomed graduates for work placements alongside staff in the Health and Safety, Environmental and Quality divisions of the company.
The programme dates back to 2009 when A&P North East were approached by London Offshore Consultants Limited to see if the yard could help them with work-placed visits for graduates. By providing young people with this opportunity it was seen as an opportunity to bridge the gap between education and working sites. A&P North East consequently welcomes different graduates each year at the Tyneside and Teesside sites.

This placement for the graduates involved docking/undocking operations, procedures to keep the personnel and the vessel safe, heavy lifts, confined spaces, energy management and environmental impact amongst other topics.

Jeff Fowler, Head of HSEQ commented: "All three showed great risk perception and hopefully we have instilled into them the importance of rigorous HSEQ controls within our industry. My team were greatly impressed by the attitude of the guys and their real interest in our work".