Odyssey Marine Exploration Reports Q1 Performance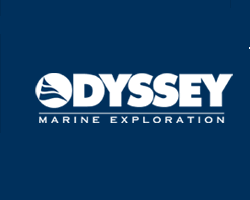 Tampa, FL – May 9, 2011 - Odyssey Marine Exploration, Inc. (NasdaqCM: OMEX), pioneers in the field of deep-ocean shipwreck exploration, has reported results for the first quarter ended March 31, 2011.

Revenue for the first quarter 2011 was $2.1 million, compared to $2.9 million in the first quarter 2010. The Company also reported a net loss of $5.2 million, compared to a net loss of $3.1 million in 2010. Included in the net loss was a non-cash expense of $1.3 million, or $0.02 per share, to reflect the change in fair value of the derivatives related to the issuance of Series G convertible preferred stock caused primarily by the increase in Odyssey share price during the period. The net loss per share for the first quarter was $0.09, compared to a net loss of $0.05 per share in the first quarter 2010.

"While our first quarter revenue was down compared to last year, we have made substantial progress during the period and are well positioned for growth in 2011.This is the first year in Odyssey's history where we have the potential for multiple recoveries. Two of our projects with clients of Robert Fraser & Partners are in the verification phase and evidence suggests that we have located the target shipwreck in at least one of these projects. We're gearing up to begin operations on the Gairsoppa project this summer and are finalizing plans for additional shipwreck projects. We've seen very positive results in the first deep-ocean mineral mining expedition conducted with Dorado and have since added to our deep-ocean clientele by providing services to Neptune Minerals off the coast of New Zealand," said Greg Stemm, Odyssey Chief Executive Officer.

Source: http://www.shipwreck.net