USCG and CMTI Warn of Counterfeit Fire Extinguishers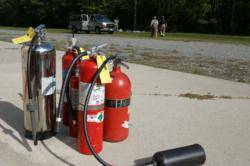 Beware of counterfeit U.S. Coast Guard-approved portable fire extinguishers.

The U.S. Coast Guard announced that it was made aware of counterfeit extinguishers said to be manufactured by Amerex Corporation and Buckeye Fish Equipment.

"Both companies are major producers of genuine approved fire extinguishing equipment," the U.S. Coast Guard said in a marine safety alert issued in March 2013.

"Counterfeit portable fire extinguishers pose a safety hazard for any vessel that has one on board," said Chesapeake Marine Training Institute's President and Founder, Capt. Guy Sorensen.

Chesapeake Marine Training Institute offers firefighting courses to professional and recreational mariners, and training includes understanding firefighting equipment and practical, live fire exercises.

The largest concern with counterfeit fire extinguishers is that their ability to extinguish a fire effectively is unproven, according to the U.S. Coast Guard.

How can you tell if your portable fire extinguisher is counterfeit? According to the U.S. Coast Guard, there are several identifiable features:

1. Duplicate serial numbers.
2. The labels. Labels on "counterfeit extinguishers may be simply printed. Labels on genuine approved extinguishers will include a security imprint / texture behind the UL LISTED logo, classification, testing and approval data. Genuine Amerex Corporation extinguishers will have a pattern of scored circles, and genuine Buckeye Fire Equipment extinguishers will have the letter S scored into the label."
3. Check the bottom of the extinguisher. A counterfeit extinguisher has a rounded curved-in lip and will be missing a date stamped on the bottom.
4. Counterfeit extinguishers will have welded seams in the sides of the cylinder and red or black handles, vs. silver-colored aluminum on the genuine handles.

If an extinguisher is suspected to be counterfeit, contact the U.S. Coast Guard at typeapproval@uscg.mil and anticounterfeiting@us.ul.com with a description of the unit, photographs of the unit from the front and rear, bottom and close-up images of the label.