Fastmount Appoints Distributors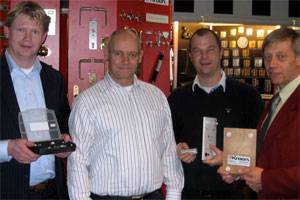 Growth in sales worldwide has prompted Fastmount Ltd, the New Zealand designer and manufacturer of the Fastmount removable panel mounting systems to strengthen its distribution team in Europe.

Fastmount has selected marine industry specialists with a wealth of knowledge in both the OEM and refit sectors in the Netherlands, Belgium, Turkey, Finland and Sweden. They appointed Kroon B.V in the Netherlands and Belgium, Neva Marine in Turkey and MarineMan Oy in Finland and Sweden as new distributors.

"With customers in more than 40 countries and growing demand in Europe across production yards, superyacht and refit, we want to ensure our customers have efficient and easy access to our Fastmount system. Customers can choose to deal with us directly via our online ordering system or with one of our worldwide distributors," said Gregg Kelly, Director, Fastmount Ltd.

Established in 1908, based in the Netherlands, Kroon B.V is the agent for many manufacturers and suppliers of marine hardware and tools. They provide a product range in categories such as seawater-resistant hinges and locks; boat fittings and mountings; hardware for luxury yachts; marine quality adhesives and sealants.

"We are very excited to represent the Fastmoun system in the Netherlands as we believe it complements our current range of products. It means our existing customers including shipyards, shipwrights, carpenters, marine engineers and naval architects will also enjoy more direct access to the Fastmount system," said Hugo Klein, Kroon B.V. Kroon B.V is an ISO certified company that employs over 200 people with multiple outlets in the Netherlands.

Turkey is quickly becoming an important boat building market with the combination of its reputation in ship building and cost effective labor. Neva Marine has been appointed Distributor of Fastmount systems in Turkey. Established in 1992, Neva Marine represents over 20 companies from Europe, USA and Japan and works closely with the yacht builders throughout Turkey.

Located in Helsinki, Finland MarineMan Oy imports and provides specialist components for the Marine industry. Ole Sandaman, Managing Director, MarineMan has over 40 years experience in the marine industry.