Costa Favolosa Finishes Sea Trials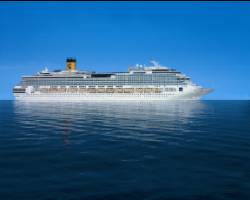 The Costa Favolosa has successfully completed the official sea trials.

The naming ceremony is scheduled for 2nd July in Trieste, with an event dedicated to the 150th anniversary of the Unification of Italy.

The Costa Favolosa, the new flagship of Costa Cruises, Italy's largest tourism group and Europe's no. 1 cruise company, has successfully completed her official sea trials.

The ship, the 15th in Costa's fleet, built by the Fincantieri shipyard in Marghera (Venice), completed her first crossing during which tests were conducted to verify the correct operation of the various systems, equipment and engines.

During the tests at sea, the Costa Favolosa was brought up to her maximum speed (more than 23 knots = 40 km/h) which was maintained for 8 consecutive hours to test the ship's endurance. There was also a "crash stop", meaning a complete stop at maximum speed to determine in how many meters the ship comes to a stop during an emergency. During the test known as the "UMS", the Costa Favolosa sailed for 6 straight hours only using the automatic energy and propulsion system controls. Finally, with the "black out" test, the electric power was cut off to check that all ship functions automatically returned to normal when the power was restored.

After completing her trials, the Costa Favolosa returned to the shipyard, in Marghera, to complete the fitting out of the interiors prior to being placed into active service. The Costa Favolosa will be ready for delivery on 30th June 2011, while the naming ceremony will take place two days later, on 2nd July in Trieste. The naming will be a tribute to Italy, and a celebration of characteristic traits of Italian identity: art, beauty, music, personages and history through an extraordinary experience that will involve everything around Piazza dell'Unità d'Italia, from the sea to buildings and the sky.

Thanks to the involvement of institutions – the Friuli Venezia Giulia Region, the Province of Trieste, the city of Trieste, Port Authority of Trieste and the Prefecture – the naming will be a public event, open to the city of Trieste, that on 2nd July will become the stage of the whole Country.

The Costa Favolosa, weighing in at 114,500 gross tonnage and with accommodation for up to 3,800 total Guests, will be the largest ship flying the Italian flag and a symbol of Italian-made excellence plying the seas of the world. Costa Cruises' total investment for this cruiser is about 420 million euro. The sister ship of the Costa Favolosa, the Costa Fascinosa, currently under construction in the Marghera shipyard, is scheduled for delivery in the spring of 2012. These two ships are part of the Costa group fleet's expansion plan, which began in 2000, a plan worth 9.6 billion euro. In particular, 9 ships with the Costa brand to be delivered from 2003 to 2012 have and will be built in Italy.
Source: Costa Crociere