Around Europe Race: FenêtréA-Cardinal First in Plymouth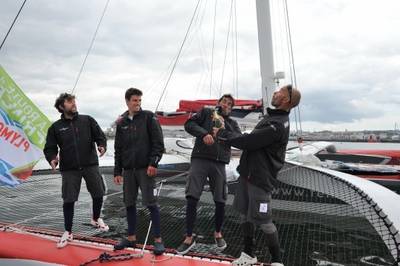 Skipper Erwan Le Roux and crew of FenêtréA-Cardinal crossed the Plymouth finish line in warm summer sunshine and light airs to win Leg 3 of the Routes des Princes multihull race around Europe.
The crew join two others in having won the three consecutive offshore stages which have brought the fleet from Valencia to Lisbon to Dun Laoghaire to Plymouth.

On the 340 miles leg which started off Dun laoghaire on Monday morning, FenêtréA-Cardinal only finally got ahead in the very early hours of this morning at crawling speeds between Falmouth and the finish line. They held further to the east, offshore and managed to lift away from long time rivals Arkéma - Aquitaine Region, going on to win by 37 minutes and 7 seconds.


With overall race leaders, Yves Le Blévec's Actual left to finish third, arriving 1H 43' 30'' after the winners, the Multi 50 leaderboard is now much more compressed as the crews contemplate the one last sprint to the final finish line in Morlaix, which starts on Saturday evening.


Actual's total margin is now trimmed to just two points ahead of Arkéma –Region Aquitaine with FenêtréA-Cardinal now just six points off the overall lead thanks to their win today. Erwan Le Roux's team have now finished third, second and first on the offshore legs.

Results Leg 3, Dun Laoghaire to Plymouth.

1.FenêtréA-Cardinal, 2d 3h 37mn 50s, 40 pts.
2.Arkema – Région Aquitaine, 2d 4h 14mn 57s 36 pts.

3.Actual, 2j 5h 21mn 20s, 32 pts.

4.Rennes Métropole – Saint-Malo Agglomération, 28 pts.