Fincantieri to Build Seabourn Cruise Ship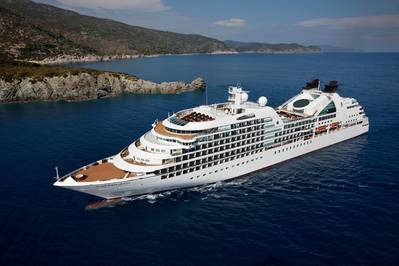 Italy-based shipbuilders Fincantieri say they have been contracted to build the new ship by Seabourn, the ultra-luxury cruise brand of Carnival Corp.
The shipbuilders inform that the ship, due to join the Seabourn fleet in the second half of 2016, will be built according to the standards and technical solutions that make Seabourn one of the most prestigious brands in the ultra-luxury segment and will continue the fleet modernization that began in 2009.
They add that the all-suite ship will be approximately 40,350 gross tons, 210 metres long and 28 metres wide and will be able to reach a cruising speed of 18.6 knots. It will carry up to 604 passengers, accommodated in 302 spacious suites, all with a private balcony.

It is intended that safety will be one of this ship's major strong points ane the new cruise ship will be built using the very latest technologies, with standards that will exceed the requirements of the relevant legislation. Fuel consumption will be significantly reduced by optimizing the ship's hydrodynamics.

Giuseppe Bono, Fincantieri's Chief executive officer, said: "An order from a new brand is always a source of great satisfaction. Today we can also add a note of pride, because the addition to our customer base of Seabourn, the Carnival Group's top-end cruise line, means that we are now building ships for all the operators in the ultra-luxury segment, a niche market that has seen strong investments in the past year". Bono continued: "This gratifying result, which gives us cause to be optimistic about the future, is the product of the cultural renewal being pursued with determination at every level of our business activity".