Fincantieri Starts Work on New Viking Ship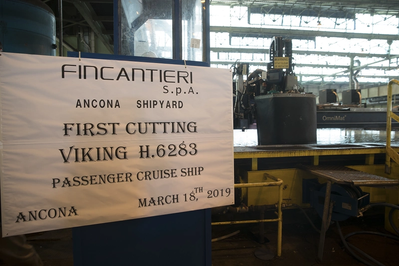 The steel cutting ceremony of the seventh ship which Fincantieri is building for Viking took place at the shipyard in Ancona, Italy.
The new unit, whose delivery is scheduled in 2021, will be placed in the small cruise ship segment. As its sister ships, she will have a gross tonnage of about 47,800 tons, 465 cabins with accommodation for 930 passengers.
The first of the series, "Viking Star", has been built at the shipyard in Marghera and delivered in 2015. The other units, "Viking Sea", "Viking Sky", "Viking Sun", and "Viking Orion", handed over in 2016, 2017 and 2018, were all built at the Ancona yard, as well as "Viking Jupiter", which joined the shipowner's fleet in February. Other 10 units, options included, for Viking Cruises will take to the sea from the Group's Italian yards between 2021 and 2027.