First VLCC Built to CSR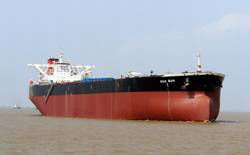 Global tanker shipping entered a new era of vessel construction Oct 28, when Shanghai Waigaoqiao Shipyard (SWS) delivered to 's Ocean Tankers (Pte) Ltd the first very large crude carrier (VLCC) built to Common Structural Rules (CSR). The 318,000-dwt Hua San, the first of 11 VLCCs confirmed to Lloyd's Register class at Shanghai Waigaoqiao, was delivered to the owners five months ahead of schedule.
The Hua San is the first of an initial order of six VLCCs ordered by Ocean Tankers at Shanghai Waigaoqiao, four of which were classed to Lloyd's Register. The expansion-minded tanker operator last year returned to the yard for another order of three VLCCs, with three options, again awarding the class for the confirmed ships to Lloyd's Register.
Tankers built to CSR, which are applied to new ships contracted on or after April 1, 2006, feature increased strength requirements and more robust fatigue-related construction designed to make them safer and more dependable to operate. CSR design requirements target a vessel life of 25 years under comparatively harsh "" operational conditions.
The Hua San is not only the first VLCC built to CSR, it is also the biggest vessel by weight ever built in .
"With the growth in demand for crude oil in showing no sign of abating, it is anticipated that this market will require another 40 to 50 VLCCs in the next five years," said Chen Minjun, President of Shanghai Waigaoqiao Shipyard. "We therefore believe the future demand for this type of ship is very promising."
SWS, which saw its annual production almost triple to 3.53 million dwt in four years starting from 2004, has also developed a series of Aframax and Capesize bulkers as well as a 3,000-meter semi-submersible drilling platform and high specification Floating Production Storage and Off-loading units.
The basic design for the VLCC was created by Korea Marine Consultants with the detail and production design completed by in-house designers at SWS. Both were supported at a very early stage of development by the Shanghai Design Support Office of Lloyd's Register Asia.
Lloyd's Register currently has almost 300 bulk carriers on its order book in , or 12.2 million gt.