Forget the Way it's Been Done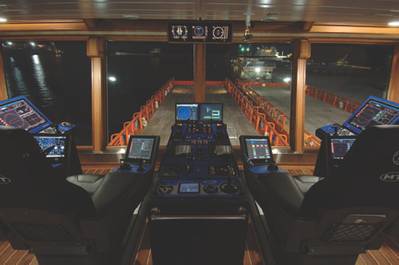 By Raina O. Clark
Several years ago, Jan Mikalsen was living on the west coast of Norway, contemplating his next move after the closing of his Kongsberg Maritime office. While Kongsberg consolidated its business to the opposite side of the country, Mikalsen took stock of his strengths. He knew dynamic positioning systems (DPS), a software application designed mostly for offshore service vessels. He also knew there was room for improvement in the world's DP-systems.
Mikalsen, who had worked for Kongsberg Maritime since 1973, was soon to become stiff competition for his former company.
When Edison Chouest Offshore, one of the world's largest operators of offshore service vessels, was tired of paying large service fees to outside companies to maintain their DP-systems, Mikalsen had the solution.
In 2002, he became Founder and President of Marine Technologies, LLC, based out of Mandeville, Louisiana, and owned by Edison Chouest Offshore. Mikalsen hand picked a team of 11 experts and his new company set about its first task to develop a DP class two system for the M/V Amber, a 280-ft. OSV owned by Chouest.
Mikalsen's teammates came from marine technology companies in the U.S. and Norway. Four followed him from his former Kongsberg office. "I collected a team of people I knew with experience around dynamic positioning and together we had 128 years of experience" Mikalsen said.
Just 16 months after Marine Technologies was created, its first DPS project was complete and the M/V Amber received its DPS-2 notation from the American Bureau of Shipping. Marine Technologies provided many more DPS systems for Chouest vessels before turning to the open market to offer its products and services.
"I think we're probably the third largest supplier of dynamic positioning systems," said Capt. Ole Morton Husøy, head of design sales and marketing for Marine Technologies' Norway office. "Now we've sold over four hundred dynamic positioning and joystick systems, half of those to China and Singapore."

From DP to IBS
A dynamic positioning system consists mainly of two consoles, two workstations and software (DP-2). Today, Marine Technologies has gone beyond DPS and is also offering an integrated bridge system (IBS) with the BridgeMate brand name.
"Our goal is to be a one-stop shop for cost-effective systems based on the latest technology available," said Mikalsen. "We offer the ship owner more flexibility and utilization — a total solution."
Mikalsen, a sharp and enterprising man, started out in Norway's F-16 air fighter program before segueing into a 35-year career in marine control systems and, most recently, turning the loss of a job into the presidency of an up and coming company.
Mikalsen has surrounded himself with like-minded people, including Husøy, who describes himself as "a one man show in Europe." Husøy, a licensed Captain, has the most extensive shipboard experience of all Marine Technologies' team members. He uses that experience to determine exactly what the operators of the vessels need.
Husøy and Mikalsen had also worked together at Kongsberg Maritime. While Mikalsen formed Marine Technologies, Husøy took a position working on integrated bridge systems. "The company was bought by a big American company, where most of what you have to do is report in every three months," said Husøy. "I thought 'no, I want to do something more constructive with my knowledge.'"
"So I called up Jan and asked, 'isn't it about time you started making a bridge system?' He told me to jump on a plane, I flew over, we barbequed, we made some drawings on the back of a napkin. That was the start of it."
Husøy went on to lead Marine Technologies' first project in the navigation bridge system market. The Blue Arrow was built out of the Factorias Juliana shipyard in Gijon, Spain. The vessel was originally ordered by Arrow Seismic, which was later bought by Petroleum Geo-Services.
"We took all the hardware that was already proven and developed for the dynamic positioning systems and used the same infrastructure, the same monitors, the same consoles, the same computers," Husøy explained. "Of course it's a big advantage when we sell a complete package because the client only needs one set of spare parts."
"The project in Spain was a complete integrated bridge that meets all the highest standards in the world," Mikalsen said. Both Husøy and Mikalsen agree that the bridge system now in place on the Blue Arrow is more flexible and redundant than any other system on the market.
"All our workstations can show all the applications," Husøy said. "There isn't a dedicated radar monitor or a dedicated chart machine. We run all the applications on all the monitors, which, of course, provides enormous flexibility and redundancy.
(Reprinted from the August 2008 edition of MarineNews)