SENER Launch Latest FORAN CAD/CAM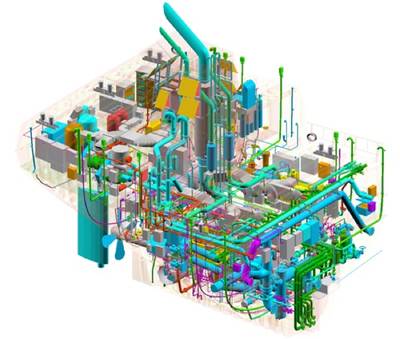 SENER launch its newest V70R2.0 FORAN release with a good payload of new capabilities for shipbuilding & offshore sectors.

For this last FORAN release, SENER has strengthened the links between the basic and detail designs, and between the ship design and the running PLM solution.

Ship modelling in FORAN V70 FORAN remains the only CAD/CAM system which has been fully in-house developed and is completely ship oriented.
In FORAN integration doesn't come as an effort to communicate between different disciplines from different developers, but as the natural result of accessing the same information from different perspectives. This natural integration has been improved in the new release by unifying input data windows, opening the electrical data to generic pipe and HVAC fittings, controlling the equipment position in the ship regarding the maturity of the already connected cables.
The company mention there are new profile definition options; pipe elements and segments can be linked or unlinked to diagram by command; and virtual reality immersive navigation is possible through FVIEWER with stereoscopy and tracking control.

Minor, cosmetic change but with everyday impact is the new palette for FORAN 3D model: it was time to replace the very basic and strong colors with new, softer and more natural ones. Sometimes just small details make the difference.

With a continued history of more than 45 years in the market, SENER keeps on developing the cutting-edge solution for the shipbuilding success.