French Strike Disrupts Rhine River Traffic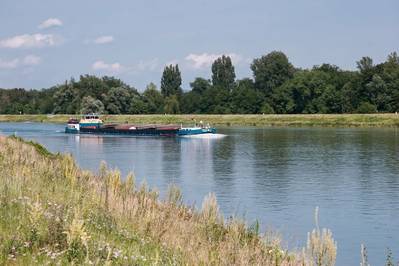 Rhine river traffic came to a standstill in some places on Wednesday due to strikes against French government plans to raise the pension age, with sections of the river in France, Germany and Switzerland affected, a CGT union representative and Germany's Waterways and Shipping Administration (WSA) said.
Around 1.28 million people in France had participated in a sixth day of protests on Tuesday against a draft law that would see the pension age delayed by two years to 64.
A blockade at Strasbourg lock on the Rhine was cleared by police and an evacuation of the blockades at the Marckolsheim lock, south of Strasbourg, was underway, CGT representative Fabrice Coudour said.
"Traffic is still interrupted," an official at EDF's Gerstheim Rhine lock close to Marckolsheim told Reuters, saying he did not know when it would resume.
Rhine shipping beyond France is being affected, the WSA spokesperson said, including traffic to German ports on the river such as Breisach or Weil am Rhein near the French border, as well as Basel in Switzerland. All traffic to Switzerland via the Rhine route is interrupted, the spokesperson said.
"The whole international Rhine navigation is practically interrupted on this section due to these strikes," they said.
The Upper Rhine flows through parts of France, Germany and Switzerland. Some stretches of the river have alternative transport routes via road and rail.
Traffic volumes on the Upper Rhine are dwarfed by Lower Rhine traffic to and from the Ruhr region in North Rhine-Westphalia, Germany's industrial heartland, which lies hundreds of miles to the north and depends on the river for connections to Dutch sea ports.
Rhine barges carry grains, oilseeds, coal and mineral oil products, among others.
A video circulating on Twitter of the Marckolsheim lock showed lines of police vans, with French leftwing lawmaker Thomas Portes saying local authorities had deployed hundreds of security officers to end the blockade.
"The use of force will only aggravate the strike action and could cause repercussions elsewhere," CGT representative Coudour said.
The Rhine Navigation Act states that individual countries must ensure that navigation is unhindered on their territory.
The France-based Central Commission for the Navigation of the Rhine was not immediately available for comment.
(Reuters - Reporting by Benjamin Mallet, Forrest Crellin, Tassilo Hummel, Philipp Krach in Gdansk and Vera Eckert; writing by Forrest Crellin; editing by Ingrid Melander and Jane Merriman)