LOEWE to Build Full-spade Rudder Systems for FSG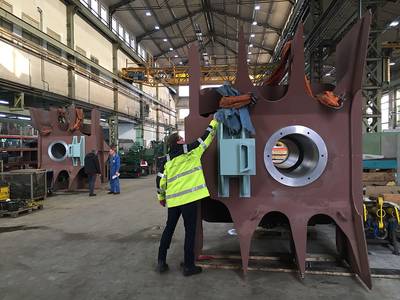 At the SMM maritime trade show in Hamburg, the Bremen-based shipbuilding supplier and provider of consulting and ship-related services LOEWE MARINE announced that it has received an order from shipbuilders Flensburger Schiffbau Gesellschaft (FSG) to supply the rudder systems for five newbuilds. The order takes LOEWE's partnership with FSG to the next level, coming, after five completed rudder projects for FSG over the past two years. It includes a twin arrangement of a high-efficiency flap rudder for a 194.8-meter RoPax ferry ordered from FSB by Irish Ferries.
"This next step in our partnership with FSG is also an endorsement of our business model of building high-quality rudder systems in Germany – rudder systems that deliver maximum maneuverability and fuel efficiency," commented LOEWE MARINE CEO Carsten Löhmer.
The 10 full-spade rudder systems that LOEWE MARINE will supply to FSG over the next 16 months will be developed and built in Germany from start to finish. The engineering design work, procurement and logistics planning will be done at LOEWE MARINE's headquarters in Bremen; the steel construction work will be done by the company's partners in Rostock and Stralsund; and the
mechanical systems will
be fitted in Bremerhaven and Osnabrück.
For Löhmer, a naval architect of many years' experience,
Germany offers
a number of key advantages as a production location. "Our customers demand outstanding quality and strict adherence to deadlines, and we can deliver on both if we manufacture here in Germany. Shipbuilding is a fast-changing industry that is constantly throwing up new challenges. Germany has the infrastructure and critical mass of quality partners and highly skilled workers to rapidly build and deploy the robust solutions needed to meet these challenges."
Löhmer is a strong advocate of cooperation in the maritime industry, both in his role as company CEO and in his role as deputy chair of the
Advisory Board
of the Maritime Cluster Northern Germany. He understands the supreme importance of effective communication between engineering design and production. "Successful shipbuilding hinges on clear communication. And often it's those quick face-to-face meetings that make all the difference. It's the kind of thing that can only happen in Germany, where all the key players in the chain are close by and can meet at a moment's notice."
LOEWE MARINE delivered for for FSG's newbuild nos. 758, 759, 763, 764 and 763, and it is this success which has prompted FSG to choose LOEWE MARINE rudder systems for all the other newbuild projects on its books. FSG currently has orders for four 209-meter RoRo vessels (newbuild nos. 769, 770, 772 and 773), which it will deliver between 2017 and 2018, and one 194.8-meter RoPax ferry (newbuild no. 771), which will have 435 cabins and space for 1,900 passengers and is due for delivery in May 2018.