G&G Shipping Orders 190-ft Landing Craft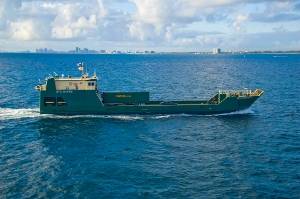 G&G Shipping announces that it has signed and awarded a contract for new construction of a shallow draft 190' roll-on, roll-off, landing craft to be built by St. Johns Shipbuilding in Palatka, Florida.
Mike Grandonico, President of G&G Shipping, states, "We work to continuously offer the best, most reliable, on-time shipping service for our customers throughout the Caribbean and this new vessel will allow us greater capability to expand this quality service to our customers."
Construction of the yet-to-be-named vessel will be performed at St. Johns Shipbuilding's 90 acre, state-of-the-art facility located near Jacksonville, Florida. Delivery of the vessel is expected November 2010.