US ONR Opens Ship Gateway for Navy Data Sharing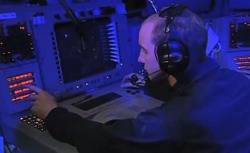 An Office of Naval Research (ONR) universal gateway to give Sailors access to accurate, secure, real-time information will be delivered to the fleet in three years
On any Navy destroyer, cruiser or carrier today, there are two networks: one for combat systems (weapons and sensors) and one for command and control, or C2, which also encompasses intelligence, surveillance and reconnaissance. There are some 30 interconnections between the two networks, making it difficult to integrate data into a real-time common operating picture, as well as expensive to maintain.
In response, ONR developed the Universal Gateway, which collapses the 30 connections into a single portal, rapidly automating data integration, enhancing information assurance and reducing manpower workloads and costs.
The gateway can be put between any different networks, despite their classification levels, so information is available in a timely and effective way for warfighters.
One example of how this will help Sailors is by automating air tasking orders. Currently, an air tasking order comes to a ship on the C2 side. The only way to link the information into a combat system—such as Aegis—is for a Sailor to download the information from the C2 network CD and then manually upload it into the combat system.
"Now, with the Universal Gateway, the data is uploaded automatically, and it's secure—no more moving data between networks," said Wayne Perras, director of experimentation for ONR's Command, Control Communications, Computers, Intelligence, Surveillance, and Reconnaissance (C4ISR) Department. "This vastly improves accuracy, eliminating mistakes almost entirely."