GE LM2500+G4 Earns Three Certifications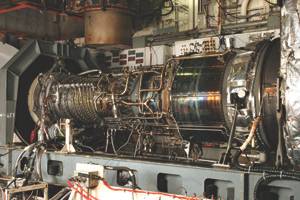 GE Marine reports it has completed a gas turbine engine qualification testing program for its LM2500+G4 marine aeroderivative gas turbines. As a result, the engine is now certified by three key organizations: Bureau Veritas, RINA S.p.A., and American Bureau of Shipping (Naval Vessel Rules).
"To meet engine qualification requirements for the LM2500+G4, GE devised a rigorous testing program that was approved by all three key organizations," said Brien Bolsinger, GE Marine general manager. "The 500-hour program performed at our Evendale, , test cell certified the engine's operation and performance, thus qualifying the LM2500+G4 gas turbine for both military and commercial marine applications," Bolsinger added.
The first military marine application of the LM2500+G4 will be to power the French and Italian Navies European Multi-Mission Frigates (FREMM) ships. In September 2008, the initial LM2500+G4 gas turbine module was delivered by GE Marine System Supplier (MSS) Avio to DCNS' shipyard in for the French Navy's first FREMM.
The LM2500+G4 is the latest and most technologically advanced member of the LM2500 family. The LM2500+G4 offers 17% more power than its LM2500+ predecessor, and has a 6% increase in airflow over the current LM2500+ model. The LM2500+G4 is expected to provide the same 99.6% reliability level as the LM2500, which currently has a fleet of more than 2,500 engines operating in diverse marine and industrial applications.
The LM2500+G4 is experiencing increasingly greater demand by marine and industrial customers worldwide. To date, GE has on order or delivered 58 LM2500+G4 gas turbines, with a high time engine logging in excess of 10,000 hours in service.