Gerald R. Ford Keel Laying Ceremony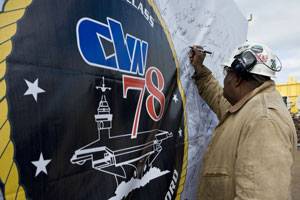 Shipbuilders at Northrop Grumman Corporation's (NYSE:NOC) Shipbuilding sector in Newport News, Va., signed a 15-ft banner in preparation for the upcoming keel laying ceremony for the nuclear-powered aircraft carrier Gerald R. Ford (CVN 78). The banner will be on display at the ceremony on Nov. 14.

Susan Ford Bales, the daughter of the late President Gerald R. Ford, will serve as ship's sponsor and keel authenticator for the ceremony. Bales will authenticate the keel by chalking her initials onto a metal plate. Her initials will then be welded onto the plate.

Named after the 38th president of the United States, Gerald R. Ford (CVN 78) is the first ship of the new Gerald R. Ford class. The Ford class will continue the legacy of highly capable U.S. Navy nuclear-powered aircraft carrier ship platforms. Enhancements incorporated into the design include flight deck changes, improved weapons handling systems, and a redesigned island, all resulting in increased aircraft sortie rates. It will also include new nuclear power plants; increased electrical power generation capacity; allowance for future technologies; and reduced workload for the sailors, translating to a smaller crew size and reduced operating costs for the Navy.