Blyth Workcat Begins Dolphin Viewing Trips off Gibaltar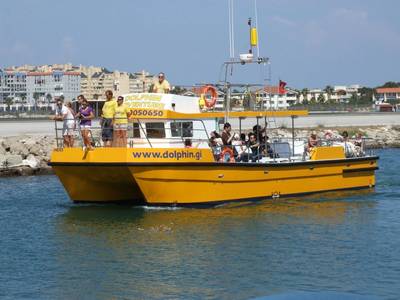 Cruise ship passengers and tourists stopping in Gibraltar now have the opportunity to view the region's dolphins and marine life from the comfort of a new Blyth Workcat. The 14-meter GRP-hulled boat has been acquired by Dive Charters Ltd. who own and operate Dolphin Adventure one of Europe's largest dolphin watching organizations.

The new Dolphin Adverturer II which can carry up to 70 passengers, has joined her sister ship Dolphin Adventurer which is a 50 seat 12-meter Blyth Workcat. The company has recently begun using the new boat to support its year-round program of excursions to view dolphins and whales in the waters around Gibraltar. The Strait of Gibraltar and Gibraltar Bay are one of the world's hotspots for viewing marine mammals and only a short distance from Dolphin Adventures base at Ocean Village.

The Dolphin Adventurer II is powered by two Iveco N67 420hp engines that give it a top speed of 25kts limited to 20 knots with passengers on board and an economical cruising speed of 15 knots. The distinctive bright yellow boat was built to MCA (Maritime and Coastguard Agency) class rules on Canvey Island, Essex, UK and was delivered by road from the UK for launching into the Mediterranean.

Dive Charters is a well-known Gibraltar company and featured on the Channel 5 TV series "Britain in the Sun". Tony Watkins, owner of Dive Charters said, "In the current tourism and economic climate investing isn't without risk. It was very important that the boat was delivered on time and on budget, from starting work to the first paying passengers stepping on board was under four months. We were very happy with our original 12-meter boat and only made a couple of minor modification to the layout of the new one, although both boats look identical. The extra capacity has had an immediate effect on our operation as we now carry more than double the number of passengers that we did in the same period last year."

Blyth Workcats is based on Canvey Island, Essex, U.K. where it builds specialised catamaran workboats in lengths of 10, 11, 12, 14, 17 and 20-meters for all types of marine work. This can include wind farm support, surveying, passenger transport or fishing charter. Blyth Workcats are also chosen for any other tasks that require high performance and good sea-keeping combined with stability and extensive load carrying capability. All Blyth Workcats are built from GRP which ensures lower initial outlay and running costs while retaining their good looks for longer than typical metal-hulled boats. GRP hulled boats can also be built with strength where it is needed and can include valuable weight savings wherever the design permits it.