GL Contracts Jack Up Platform Thor with Hellenic Shipyards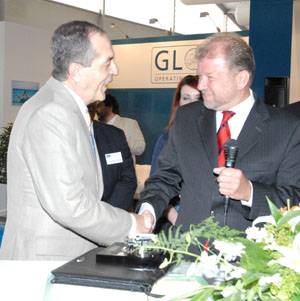 Hellenic Shipyards has secured a contract for the construction of a sea platform to accommodate offshore wind-parks for location in the Baltic and . The classification of the 70 metre platform Thor has been entrusted to Germanischer Lloyd. Mr. Ioannis Manolemis, Member of Hellenic Shipyards Board of Directors, and Dr. Hermann J. Klein, Member of the Executive Board Germanischer Lloyd signed the contract today at Posidonia. The platform is 70 metres long, 40 metres wide, has a draft of 6 metres and can be operated in water depths of up to 50 metres. It has a crane of 400-tonnes lifting capacity. Each of the windmills on the platform produces between two and five megawatts of power. Delivery is scheduled for April 2009. Thor is designed to operate worldwide in harsh environmental limits, said Manolemis at the signing ceremony. The order is the first major commercial newbuilding order won by the largest shipyard in the area of the eastern in the last 22 years.
The classification is performed according to the rules and principles set out in Germanischer Lloyd's construction rules.