Greatship Group Names "Greatship Rohini"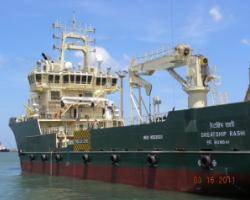 Today (9.02.2011) for the first time in the history of local shipbuilding industry, Colombo Dockyard named a vessel which will be charted by the owner Greatship Group, for the world renowned Brazilian Oil Company PETROBRAS.
The naming ceremony was graced by the Chief Guest Hon. Basil Rajapaksa Minister for Economic Development. The Lady Sponsor of the ceremony was Dr. (Mrs.) Chandrika Yapa. His Excellency Ashok Kantha High Commissioner for India in Sri Lanka, His Excellency K. Takahashi Ambassador for Japan, Vice Admiral DWAS Dissanayake and a host of other Sri Lankan Government Ministry/ Department officials and top corporate officials of the private sector graced this historic occasion.
Mr. Mangala Yapa Managing Director/ CEO, Colombo Dockyard welcomed everyone to the event and Mr. Akihiko Nakauchi Chairman Colombo Dockyard and Mr. Bharat Sheth Chairman Greatship India Limited (GIL) spoke at the event.
Mr. Ravi Sheth Managing Director GIL, Mr. V Sheshashayee Executive Director GIL, Mr. P.V. Suresh Group Head NC GIL, Mr. David Jamieson, Mr. Chris Tapley, Ms. Nirja Sheth, Mr. Kartik Modi, Mr. Kowshik participated representing the Owners.

The Vessel
The "Greatship Rohini", a state of the art, 78m Platform/ROV Support Vessel is the 217th new ship that Colombo Dockyard PLC has built and the 11th large & highly complex vessel that CDPLC has built and delivered, in the short span of 4 years, since it internationalized its Shipbuilding business in 2006.

She is the third of a series of four sister-vessels, the "R" Class Series, designed by SeaTech Solutions International (S) Pte Ltd. of Singapore and being built by Colombo Dockyard PLC. The "R" Class Multipurpose Platform Support Vessel is being well recognized by the international oil and gas industry, as high capacity and high performing vessel with exceptional capabilities, competing with most of the European designs such as Ulstein (UT) and STX designs of similar class.

Rohini is particularly unique, as she is the first Platform/ROV Support Vessel, built by us as well as owned by Greatship Group of Companies, with capabilities for attending highly complex deep sea operations, in the Oil & Gas Industry and is also the first vessel built by Colombo Dockyard PLC that will be chartered by world famous PETROBRAS, the world's fourth largest oil Company, in Brazil. This vessel is equipped with highly sophisticated Remote Operating Vehicle (ROV), with its auxiliary launch and recovery systems. The ROV is an underwater robot, with multifaceted complex maneuvering, used in the offshore industry for various duties on sub-sea structures; hydrocarbon sample extraction, well-head and pipe line inspection, repairs & modification and even damage control work. It is an unmanned, highly maneuverable ROV, operated (in the industry termed as "flying the ROV") by a team of highly skilled Pilots, located aboard the Vessel. The ROV fitted with many cameras and other sensory devices is connected to the Vessel by an umbilical cable carrying electrical power, video and data signals back and forth between the Operator and the Vehicle.

PETROBRAS will use this vessel for exploration activities in their offshore oil reserves in deep water.

The basic vessel, similar to the first two sister vessels, Greatship Rekha and Greatship Ramya was completed and delivered in early January, 2011 and in response to the emerging market demands and the explicit requirements of PETROBRAS, the Owners, Greatship India Ltd. decided to modify this vessel with additional cranes, A Frames, enhanced accommodation facilities and ROV equipment. Colombo Dockyard PLC willingly undertook to complete such modifications at the shortest possible time. The fourth in the series, Greatship Rashi, too will be modified and join her sister, upond her delivery at the end of February 2011.
The ceremony is to Christine this vessel with her name; Greatship Rohini. She is a modern, Class II DP Vessel, built in total compliance with new SPS (Special Purpose Ships) Code 2008 and Environmental Protection & Crew Comfort notation of Lloyd's Register of Shipping, and is capable of supporting offshore oil and gas exploration and production work, anywhere in the world, an enviable proof to Sri Lankan Shipbuilding & engineering capabilities and promoting our globalization theme "MADE IN SRI LANKA: from here to the World".


Source: Nor Shipping