Greenpeace Arctic 30 Activists Wait for Permission to Exit Russia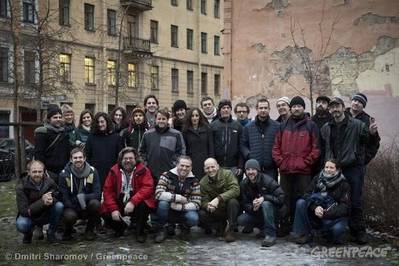 Lawyers for the Arctic 30 have started to lodge applications with Russia's Investigative Committee seeking exit visas for the non-Russian nationals. If the applications are approved, the foreign nationals would be allowed to leave Russia to await ongoing investigations into their Greenpeace International Arctic oil drilling protest.

All of the foreign nationals, 26 people from 17 nations, have had their passports returned to them after their release on bail from detention last month. However, they do not have the correct visa allowing them to leave Russia and are currently staying at a hotel in St Petersburg.

Jasper Teulings, General Counsel at Greenpeace International, said: "This is a unique situation where the Arctic 30 were charged and then bailed inside Russia after they were detained in international waters beyond Russia's territorial waters. We are hopeful this issue can be resolved. Greenpeace will continue to contest the charge of hooliganism and demand the dismissal of all charges."

In a case lodged by the Netherlands, the International Tribunal for the Law of the Sea (ITLOS) had earlier ordered Russia in a binding ruling last month to release the Greenpeace Dutch-flagged ship Arctic Sunrise and the Arctic 30 upon posting of a 3.6 million euro bond in the form of a bank guarantee by the Netherlands.