Norden Raises Guidance for 2011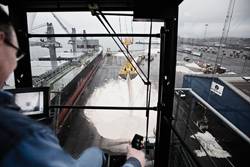 Danish shipping company
D/S Norden upgraded
earnings guidance for 2011, saying its dry-bulk business gained market share and it saw prospects for a solid fourth quarter.
-
NORDEN's operating earnings (EBITDA) in the third quarter 2011 were $36m, a $14m improvement on the third quarter 2010.
-
EBITDA in Dry Cargo was USD 35 million, up from USD 27 million in the same period last year. T/C income per ship day outperformed market rates by 25%, mainly due to high coverage at sound rate levels. Tankers showed a good operational performance in very weak markets, and EBITDA for the quarter was USD 3 million against a loss of USD 2 million in the third quarter 2010.
-
NORDEN's EBITDA year-to-date was USD 124 million. Excluding non-recurring income, EBITDA was down 4% from last year due to poorer market conditions.
-
Following higher depreciation due to fleet growth, profit from operations (EBIT) for the third quarter 2011 was USD 15 million (USD 45 million in the third quarter 2010, of which USD 32 million was related to profit from sale of vessels). Excluding profit from sale of vessels, EBIT was up 12%.
-
Theoretical Net Asset Value (NAV) was DKK 249 per share against DKK 246 per share at the end of the second quarter. The increase is due to a higher USD/DKK exchange rate which more than offsets the lower market value of the fleet and charter parties with purchase option.
-
Coverage in the remainder of 2011 is 104% in Dry Cargo and 42% in Tankers. Coverage for 2012 has increased to 57% in Dry Cargo and 14% in Tankers.
-
NORDEN revises its full-year estimates to an EBITDA of $160-180 million (previously $135-175 million) and an EBIT of $80-100 million (previously $55-95 million).
"After a sluggish first half of the year, the dry cargo market regained some strength during the third quarter," Norden, a dry-bulk and
tanker operator with
a fleet of 216 vessels, said in a statement on Tuesday, as reported by
Reuters
.