Wärtsilä Engine Bags Guinness World Record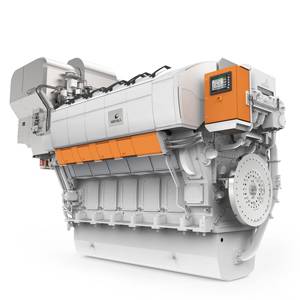 The recently launched Wärtsilä 31 engine has achieved a Guinness World Records title for the most efficient four-stroke diesel engine. Guinness World Records is a universally recognized authority on record breaking achievement. This achievement was verified on May 26, 2015.
The listing is based on the Wärtsilä 31 engine's highest fuel efficiency levels, with its diesel fuel consumption being as low as 165 g/kWh.
The Wärtsilä 31 engine is designed to serve various types of vessels in the offshore, cruise and ferry, and other marine segments where the power range requirement is from 4.2 to 9.8 MW. The engine can be operated using a range of different fuels, and comes in three alternative versions; Diesel, Dual-Fuel (DF) and Spark-Ignited Gas (SG). The multi-fuel capabilities that the Wärtsilä 31 brings to the market extend the possibilities for operators to utilize different qualities of fuels, from very light to very heavy diesel, and a range of different qualities of gas.
Roger Holm, Senior Vice President, Engines, Wärtsilä Ship Power, said, "The marine industry is focusing more than ever on efficiency and flexibility. The validation of the Wärtsilä 31 by Guinness World Records as being the most efficient four-stroke diesel engine in the world speaks for itself. Ship owners and operators now have the chance to take a more efficient approach to improving vessel operations and reducing costs. The Wärtsilä 31 clearly redefines efficiency."