HamiltonJet HT Orders Strong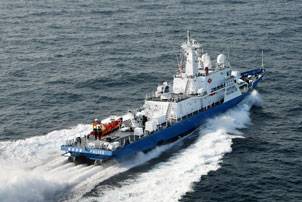 Waterjet manufacturer HamiltonJet said it has had considerable commercial success with its new HT series since the first model was introduced less than two years ago with 60 units being sold to date. So far 18 HT1000s have been delivered to South Korea for Coast Guard Patrol boats, with a further 10 jets scheduled for delivery this financial year. A large patrol boat being constructed in the USA at present also utilises twin HT1000. Seven twin shipsets of HT810s have been ordered for patrol boat projects in Taiwan with the first of these recently exceeding expectations at sea trial. Already there are orders for 16 HT900s for four fast supply vessels being constructed in the U.S.

HamiltonJet will be exhibiting at the following shows in the coming weeks:
• Euronaval, Paris France, October 25th to 29th, stand E51.
• Shiptec, Dalian China, October 26th to 28th, booth 206.
• Ausmarine, Perth Australia, November 23rd to 25th, stand 85 & 86.
• International Workboat Show, New Orleans USA, December 1st to 3rd, booth 3039 with 2 x HT900s on display.