HamiltonJets for Offshore Wind Farm Catamarans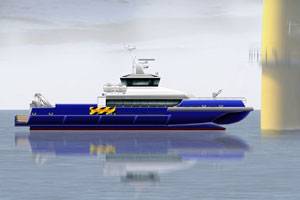 HamiltonJet has been selected as the propulsion partner in three recent catamarans working in the offshore industry. In each case the combination of wide operating envelope, enhanced maneuverability and proven durable design were contributing factors in the selection of the propulsion and control package. The first of these vessels to be built was Windcat 21, constructed by A.F. Theriault & Son for the UK/Netherlands based Windcat Workboats. Windcat has been supplying vessels for the offshore wind farm support market since the early 2000s. This recent expansion of their fleet is their third generation of vessels. Usable low speed thrust was a critical factor for these 59-ft vessels to ensure the unique "step over system" can safely allow crews to transfer to the tower in all conditions. The twin HamiltonJet HM571 waterjets helped the vessel record over eight tonnes of bollard pull during trials. Sister ships are already in construction.
The second vessel, which was recently completed at Kockums of
Sweden
for Fintry Marine, is the CarboCat 23. This 75.5-ft catamaran is the first offshore wind farm support vessel to utilize carbon fiber construction. Twin HamiltonJet HM571 waterjets propel the vessel to 31 knots top speed although service speed will be around 25 knots. Maneuverability is a key factor during docking procedures for these types of vessels and the compact and an integrated HamiltonJet hydraulics solution provides rapid controls response.
The third innovative vessel is a 91.8-ft catamaran currently in build in the UAE at Topaz Shipbuilding. The vessel, designed by Incat Crowther, will be the first in the offshore industry to utilize a wave piercing hull form. The vessel will use twin HamiltonJet HM651 waterjets to reach speeds in excess of 30 knots and also has over 50 square meters of deck space for carrying cargo. HamiltonJet inboard hydraulics and stainless steel stator leading edges provide performance and durability in the harsh operating environments, a key considerations for the propulsion system for this vessel.