Wallem Handles First Cruise Ship in Japan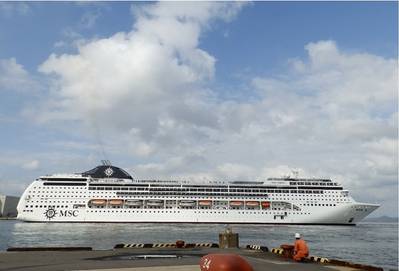 Wallem's Agency team in Japan recently welcomed the MSC Lirica on her maiden voyage. The cruise ship recently arrived in Fukuoka (Hakata) with 1,764 passengers and 743 crew onboard before heading back to Shanghai.
This call marks both the first Japanese port for the ship in its inaugural season in Asia and the first cruise call for Wallem's agency team in Japan.
Thanks to Wallem's experience in the cruise business, particularly in Asia (handling more than 450 calls across Asia this cruise season), the team made sure that every eventuality was prepared and planned for so that this inaugural call went off without a hitch.
Wallem has been providing port agency services for MSC ships calling at Singapore, Malaysia and Thailand since 2015. With this new business, the company will now look after MSC calls throughout the region, which means also in Hong Kong, Vietnam, the Philippines and Japan.
Following its maiden call, the MSC Lirica will call at other Japanese ports (Nagasaki, Kagoshima, Beppu, Kobe and Yokohama) in the future and Wallem Japan will proudly handle these regular weekly calls across Japan.