HAV Design Becomes First European Firm to Design SOV for U.S. market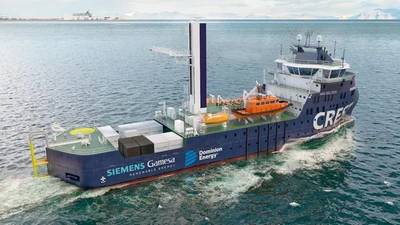 The Norwegian company HAV Group said Monday that its ship-design subsidiary, HAV Design, had signed a contract with Fincantieri Bay Shipbuilding to construct a newbuild service operation vessel (SOV) destined for the Coastal Virginia offshore wind project in the U.S.
The ship will be built for CREST, a partnership between the U.S. company Crowley and the Danish company ESVAGT.
"The contract marks the U.S. breakthrough for HAV Design, which becomes the first European ship designer to develop an SOV for the U.S. market," HAV said.
The U.S. plans to install 30 GW of offshore wind by 2030.
HAV cited the American Bureau of Shipping (ABS) class society and other industry experts, who say that the offshore wind build-out in the U.S. would call for more than 100 U.S. vessels.
---
---
Gisle Vinjevoll Thrane, vice president of sales at Norway-based HAV Design, said: "We have designed and developed numerous SOVs for use in demanding offshore climates, but this is the first time we are designing a vessel for the US market. We are confident in the operational benefits our vessel design brings to the table, so we believe that this contract can open the door for further work in the USA."
The newbuild hybrid vessel will be HAV 832 SOV design and will be constructed by Fincantieri Bay Shipbuilding in Sturgeon Bay, Wisconsin.
The ABS-class vessel will be 88 meters long and 17.6 meters wide. It will be able to carry 20 crew members and 60 special personnel and sail under the U.S. flag. The ship will go into service in 2026.
"We have designed a number of vessels, including SOVs, for ESVAGT in Europe in the past. They are highly familiar with the HAV 832 SOV design and the operational benefits it offers. We look forward to cooperating with them in the US too," adds Vinjevoll Thrane.
HAV Design has not disclosed the value of its contract. Following completion, the newbuild SOV will go on charter for Dominion Energy for its 2.6 GW Coastal Virginia Offshore Wind Project which will include 176 wind turbine generators provided by Siemens Gamesa.
Once online, the project is expected to provide enough electricity to power up to 660,000 households at rated wind speed.