Havyard to Build Hybrid Battery Arctic PSV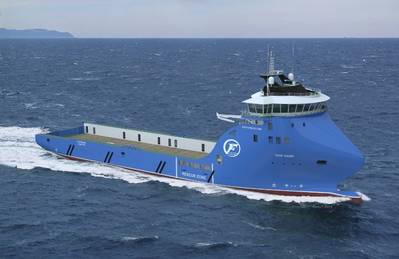 Norway's Havyard says it has signed a contract for the construction of a Havyard 833 WE ICE platform supply vessel with Fafnir Offshore HF. The vessel is to be designed by Havyard Design and Solutions in Fosnavaag & will be constructed at Havyard Ship Technology`s yard in Leirvik in Sogn, Norway.
The vessel will become newbuild number 126, and has a contract value of just above NOK 350 million being due for delivery in July 2015.
The designers explain that the Havyard 833 WE ICE is a newly developed platform supply vessel (PSV) design based on the most recent technology within fuel economy and environmental friendliness. This PSV is designed to operate as efficiently as possible and with the least amount of influence from exposed waters, in say, the Arctic region.


The vessel is designed according to the latest environmental demands; it has low emission engines and is prepared for catalysts. 
The greatest innovation onboard this vessel is that it is equipped with a hybrid battery powered diesel-electric propulsion system.


Efficient energy when needed

The idea of hybrid battery diesel-electric propulsion system is the same as for hybrid cars, namely to produce energy as efficiently as possible while also having access to necessary power whenever it is needed.


In traditional diesel-electric propulsion systems the diesel generators` load will vary according to the alternating energy needs, says Arve Helsem Leine, Design Manager of Havyard Design & Solutions.
"This means that diesel engines cannot constantly operate within a load area where these engines have the lowest possible fuel consumption.
"

"With hybrid battery power you can constantly operate diesel generators at an optimal level. When energy demands vary you can either charge or discharge batteries, depending on whether the energy demands are lower or higher than the capacity of diesel generators in operation. Response time in relation to variation in power demands is also a lot shorter, so there is a quicker transfer of power to the ship`s thrusters which ensures a more precise and secure positioning, for example in operations by an offshore rig.
"

"This hull design combined with hybrid battery power ensure that a PSV in given operations uses 30 to 40% less fuel compared to a traditional PSV," he concludes.

Key data Havyard 833 WE ICE:

Length: 89.7 m

Breadth: 19.6 m

Speed: 15 knots

Deck area: 1000 m2

Crew: 25 persons

Dead weight: 4250 tonnes