J. D. Neuhaus Highlight Shipyard Hoist Handling Solutions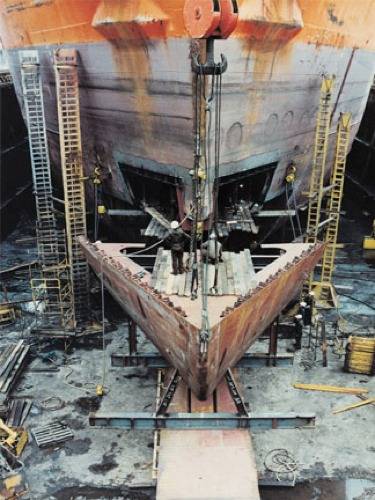 JDN's range of hoists, covering lift capacities from 250kg up to a full 100 tonnes, are used worldwide within many heavy-industry applications including shipbuilding and offshore, covering newbuild, refits and repair as well as dismantling.
Typical shipyard external applications include the installation and disassembly of rudder blades, shafts and propellers, while internal work includes heavy components for the engine room drive equipment as well as drive shafts and other general fitting out or installation work.

Compared with electrically operated hoists, the JDN air powered equipment offers a wider range of operations that can be safely undertaken in outdoor damp, dirty or even hazardous area locations as well as indoor operation in dusty or potentially explosive atmospheres.

Typical performance advantages include easy installation with robust, low-maintenance compact designs combining reduced weights and easy handling with 100% duty rating toughness. Operating air pressures range from 4 to 6 bar with lube-free performance ensuring non-pollution of the environment as exhaust air is oil-free.

A range of optional pendant controllers are available to provide sensitive, infinitely variable speed controls for the safe and precise positioning of suspended loads. General insensitivity to dust, humidity and temperatures ranging from -20°C to +70°C helps to ensure an unlimited duty-cycle performance capacity.



The Profi Ti represents the major range of hoists in the JDN range. This covers a total of 19 products covering load capacities from 250kg up to an impressive 100 tonnes per unit. These hoists all incorporate a top suspension hook mounting so that multiple hoists can be utilised for single load handling, where oblique hoisting typically required for ship rudder or propeller mount/dismount operations can be accommodated (compliance with special safety precautions will also apply). These rugged products can also be used for horizontal pulling.
For general lighter duty lift operations, the JDN Mini series hoists can be ideally utilised. With load capacities of 125, 250, 500 and 980kg, these handy, flexible products are universally deployable as a general tool for shipyard operations.

Other marine related products that can be supplied include hoists for underwater operation which have successfully been deployed for the removal, repair and eventual replacement of a damaged 50 tonne rudder on a fully loaded bulk cargo vessel while moored off the coast of Venezuela, a project that was featured on the National Geographic Channel's 'World's Toughest Fixes' programme. Other specialised equipment include hydraulically powered hoists designed for operation at extreme temperatures down to -45°C.