High-Performance Inline Thruster for Jackup Vessel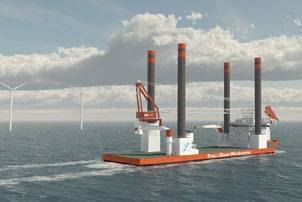 A 430 ft long, 128 ft wide jackup vessel for the erection of wind power stations is being fitted with the currently most powerful Inline Thruster from Voith Turbo Advanced Propeller Technologies. The Inline Thruster is rated at 1,500 kW and has an inner propeller diameter of 2,300 millimeters.

Voith is systematically expanding its Thruster series. The Voith Inline Thruster/Voith Inline Propulsor (VIT/VIP) series starts with type 240-10, which means: an inner propeller diameter of 240 millimeters at an output of 10 kW. Previously, the VIT/VIP 850-300 was the most powerful unit in this class.

But the principle of a propeller drive with a permanently excited electric motor housed in the hollow shaft and no maintenance requirements owing to sea water-lubricated bearings has also proven itself in larger vessels. Currently under construction at the Chinese shipbuilder Cosco Shipyard, the jackup vessel of the Danish shipowner A2Sea is the best proof of this. For this reason, Voith will in future also build significantly more powerful Voith Inline Thrusters.

In the jackup vessel, whose design originates from Gusto MSC, the VIT supports the three Voith Schneider Propellers (VSP) of the size 36R6ECR/285-2 as an additional drive system. Voith will deliver the VIT by August 2011. The launch of the vessel is scheduled for early 2012.