High-sulphur Fuel Demand Outlook Jumps as Shippers Soften Stance on Scrubbers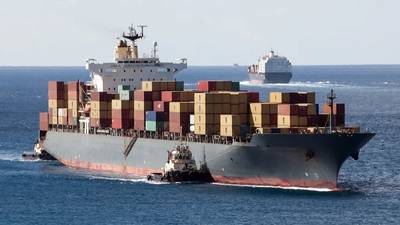 Demand for high sulphur marine fuels is likely to see a smaller drop than previously expected by 2020, said consultancy FGE, as changing attitudes to sulphur-stripping technologies from large shippers alter the outlook for use of the fuels.
More than 2,100 vessels are now expected to be equipped with exhaust gas cleaning systems, known as scrubbers, by 2020, up from 1,500 ships previously, said Thomas Olney, energy consultant at FGE in Singapore.
Adding to the improved demand outlook is "a much greater skew towards installing scrubbers on larger vessels that burn higher quantities of fuel," said Olney.
If scrubber adoption continues at current rates over the next 18 months, "and we see further commitments from large shipping operators, the scrubbed (high-sulfur fuel oil) consumption in 2020 can be lifted significantly to above 800,000 barrels per day (bpd)," said FGE.
This is up from FGE's previous demand estimate of 300,000 to 400,000 bpd, said Olney.
Vienna-based consultancy JBC Energy also earlier revised its 2020 demand outlook for HSFO to 600,000 bpd as more ships were seen adding scrubbers to their smokestacks.
To combat air pollution from the shipping industry, the International Maritime Organization (IMO) in 2016 said it would reduce the sulphur content of the bunker fuel that ships can burn to 0.5 percent by January 2020, from 3.5 percent currently.
FGE revised its outlook after shipper Hapag-Lloyd said in its half-year financial report that it was testing scrubbers on two larger container ships.
A.P. Moller-Maersk said in second-quarter results call, according to a Seatrade Maritime News report, that it remains against scrubbers as a solution to meeting the IMO's sulphur cap, although it will buy "a few" for testing purposes.
Ships without scrubbers would have to burn costlier low-sulphur fuels such as marine gasoil (MGO) or ultra-low-sulphur fuel oil to comply with the clean air rules.
Major container shippers initially dismissed scrubbers as too expensive a method to comply with the IMO's 2020 mandate, but FGE said changing market conditions have forced them to reassess their viability.
"Since late 2017, the fuel oil forward curve has blown out, making it much easier now to see the economics in favour of scrubbing," Olney said.
A wide enough price spread between high- and low-sulphur marine fuels would justify scrubber installations as fuel cost savings from burning less costly high-sulphur fuels help recoup scrubber investment costs.
(Reporting by Roslan Khasawneh; Editing by Tom Hogue)