Bentley to be Feted by National Maritime Historical Society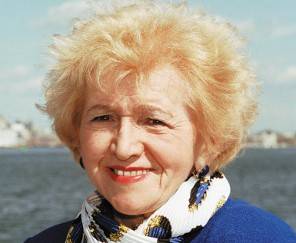 Helen Delich Bentley will be an honoree at the National Maritime Historical Society's Washington Annual Award Dinner beginning at 6 p.m. Wednesday, April 13, at the National Press Club, 529 14th St., NW, Washington, DC, 20045.
A former chairman of the Federal Maritime Commission and five-term U.S. Congresswoman representing Maryland's 2nd Congressional District, Bentley's history of advocacy for the Port of Baltimore was highlighted in 2006 when the Port was officially renamed The
Helen Delich Bentley Port
of Baltimore by Maryland Governor Robert Ehrlich.
Joining her as nominees at the award dinner will be Admiral John C. Harvey, Jr., USN, Commander, U.S. Fleet Forces Command, and CDR Everett Alvarez USN (Ret.), representing all prisoners of war as the first Naval aviator shot down in Vietnam, subsequently held as a POW for more than eight years. Alvarez holds numerous military decorations, including the Silver Star, two Legions of Merit, two Purple Hearts and the Distinguished Flying Cross.
Harvey, who prompted the Navy to establish an office to commemorate the upcoming bicentennial of the War of 1812 and has assumed a lead role in the celebration, called Bentley a "mentor" because of her pioneering television series "The Port That Built a City." Bentley was also formerly maritime editor of The Baltimore Sun.