China Homeport for Latest Giant RCI Cruise Ship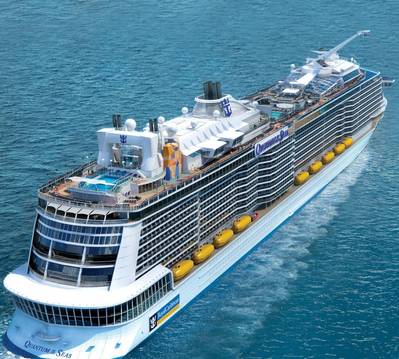 Royal Caribbean International says that its latest cruise ship, 'Quantum of the Seas', will make its home port in Shanghai (Baoshan), China The ship will reposition to China in May 2015, following her inaugural winter season sailing out of New York Harbor to the Caribbean.

In China, Quantum of the Seas will join Mariner of the Seas and Voyager of the Seas in Asia, increasing the company's capacity in the region by 66 percent.

"Consumers in China have grown to expect the best the world has to offer, and Quantum of the Seas meets that standard like no other ship," said Adam Goldstein, President and COO, Royal Caribbean Cruises Ltd. "We are ready to accelerate the growth of this vital market with a ship that will capture the imagination of travelers looking for a one-of-a-kind vacation experience."

"Every trend we are seeing in China tells us we can achieve real long-term competitive advantage and appealing returns on our investments in this fast-growing market by accelerating our presence there," Goldstein said. "We will have to be nimble, but the ability to move fast is one of our strengths."

Goldstein said the company was able to make the move because its new-ship pipeline will keep the New York region supplied with top-rate ships as well. "We are very mindful of the importance of New York, which is why we are bringing Liberty of the Seas and then Anthem of the Seas to this market."

"These incredible ships will meet the sophisticated expectations of consumers in Shanghai, New York and London. Our mantra for the new Quantum class of ships is 'this changes everything' – and upping our game in these key markets achieves just that," said Dominic Paul, Vice President, International, Royal Caribbean International.