Tall Ship 'Eagle' Homeported for Christmas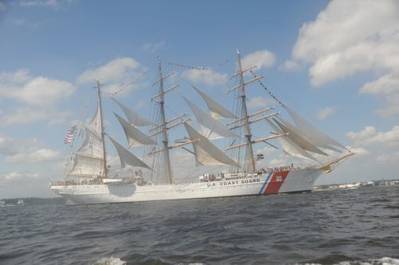 The U.S. Coast Guard Cutter Eagle departs Naval Submarine Base New London & returns to her home mooring at Fort Trumbull in New London.

At 295 feet in length, the Eagle, known as "America's Tall Ship," is the largest tall ship flying the stars and stripes and the only active square-rigger in U.S. government service. Constructed in 1936 by the Blohm and Voss Shipyard in Hamburg, Germany, and originally commissioned as the Horst Wessel by the German Navy, the Eagle was taken by the United States as a war reparation following World War II.

With more than 23,500 square feet of sail and six miles of rigging, the Eagle has served as a floating classroom to future Coast Guard officers since 1946, offering an at-sea leadership and professional development experience. A permanent crew of six officers and 50 enlisted personnel maintain the ship and guide the trainees through an underway and in-port training schedule, dedicated to learning the skills of navigation, damage control, watchstanding, engineering and deck seamanship.

Eagle arrived at SUBASE Sept. 26 and began a three-month dockside maintenance availability period. The $3.4 million dollar project included a complete renewal of the 132-foot mizzen mast, an overhaul of the main steering station, significant structural refurbishments and major berthing area modifications.

Upon returning to Fort Trumbull, the Eagle crew will finish the ship's required annual maintenance period and begin preparing for the spring and summer training deployments.