Hospital Ship Brought up to Speed with AMOS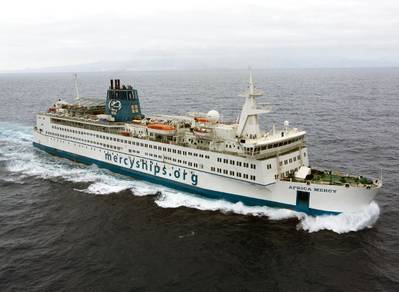 SpecTec will work with long term partner Mercy Ships to migrate its current system Business Suite to AMOS Enterprise Management Suite (EMS).
Mercy Ships' Africa Mercy, the world's largest hospital ship, will now receive a brand new update of the latest version of AMOS EMS installing the Quality Management module. This will then follow with the migration of its existing modules from the current system. At the end of the project, the Africa Mercy will be fully integrated with new and existing modules.
Mercy Ships is an international charity who visits some of the poorest countries in the world with a team of doctors, nurses, water engineers and agriculturalists to provide free surgery and medical care as well as offer advice to help improve local communities free of charge.
The partnership between the two groups began over 19 years ago when SpecTec donated AMOS onboard, managing the vessel's assets maintenance, purchase orders, stock control and budget.
Ciaran Holden, Engineering Superintendent of Mercy Ships said, "Mercy Ships has used AMOS for many years, the ability of the software to adapt to our changing maintenance needs has been excellent. The training we have received from SPECTEC on both user and administrator sides has enabled us to train our people and refine the use of the program to meet our specific maintenance needs. It has made life for our onboard crew members easier, in reporting work and recording history. We all highly value AMOS as an integral part of our maintenance plan in supporting the Africa Mercy thereby giving our medical staff the peace of mind and comfort of knowing as they work the platform is stable. I personally have learned and grown in my use of AMOS from the training I have received from the SPECTEC team. The friendships I have made and comradery in purpose and vision has been great. Already we have great plans in mind for our future maintenance planning when we transition to AMOS EMS. We are looking forward to a long lasting partnership for the years to come."
Cosimo Colonna, Vice President of SpecTec America said, "Working with the
Mercy Ships team
at any level makes me incredibly proud. The idea that my job contributes to their mission thousands of miles away from here makes me feel part of their project to humanity and the less fortunate. On top of that when I meet with them it's like being one of the family; I'm truly grateful to have been involved in this mission."