Hurricane Season Stakes Raised by NOAA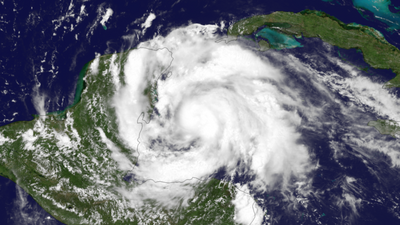 NOAA raises hurricane season prediction despite expected El Niño, updated outlook calls for near- or above-normal Atlantic season.
This year's Atlantic hurricane season got off to a busy start, with 6 named storms to date, and may have a busy second half, according to the updated hurricane season outlook issued by NOAA's Climate Prediction Center, a division of the National Weather Service.
The updated outlook still indicates a 50 percent chance of a near-normal season, but increases the chance of an above-normal season to 35 percent and decreases the chance of a below-normal season to only 15 percent from the initial outlook issued in May.
Across the entire Atlantic Basin for the season – June 1 to November 30 – NOAA's updated seasonal outlook projects a total (which includes the activity-to-date of tropical storms Alberto, Beryl, Debbie, Florence and hurricanes Chris and Ernesto) of:
• 12 to 17 named storms (top winds of 39 mph or higher), including:
• 5 to 8 hurricanes (top winds of 74 mph or higher), of which:
• 2 to 3 could be major hurricanes (Category 3, 4 or 5; winds of at least 111 mph)
"We are increasing the likelihood of an above-normal season because storm-conducive wind patterns and warmer-than-normal sea surface temperatures are now in place in the Atlantic," said Gerry Bell, Ph.D., lead seasonal hurricane forecaster at the Climate Prediction Center. "These conditions are linked to the ongoing high activity era for Atlantic hurricanes that began in 1995. Also, strong early-season activity is generally indicative of a more active season."