EMU Receives Hydrographic Survey Contract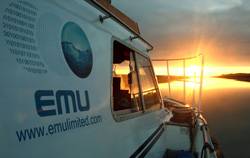 The Maritime and Coastguard Agency (MCA) has awarded marine survey specialists EMU Limited (EMU) a multi-million pound hydrographic contract as part of its program to systematically survey the waters around the UK.

The EMU contract will cover the Shallow Water Lot of the MCA's Civil Hydrography Program, which aims to gather accurate hydrographic information for updating United Kingdom Hydrographic Office (UKHO) nautical charts and publications.

The work will focus on eight main coastal offshore regions around the UK. These areas cover from Barra Island in Scotland and Carmarthen Bay in Wales to Belfast Lough in Northern Ireland and Poole Bay in England.

Starting in August, and with a two-year timeframe, the scope of work undertaken by EMU will cover more than 1,900 km2 of seabed utilizing state-of-the-art multibeam echosounding equipment and other geophysical sensors. The survey will incorporate challenging areas in which EMU's choice of the right people, equipment and techniques will be vital in ensuring safe and reliable seabed data is gathered.

EMU Limited's Managing Director, Bruce Tomlinson said this is the largest and most prestigious contract the company has ever won and is evidence of its growing capabilities in the marine survey arena.