Nationwide Survey Shows Need for Critical Infrastructure Investments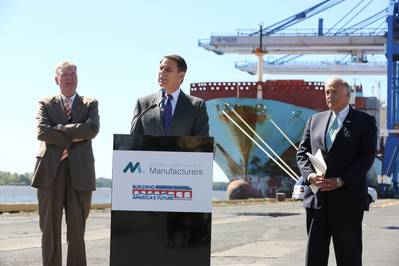 Majority Say U.S. Infrastructure in Poor Condition and Hurting Competitiveness
National Association of Manufacturers (NAM) President and CEO Jay Timmons joined today with Building America's Future (BAF) Co-Chair and former Pennsylvania Gov. Ed Rendell to unveil a new survey that highlights manufacturers' concerns about America's roads and bridges, transit and aviation systems and ports.

According to the survey of more than 400 manufacturers, a majority believe American infrastructure is in fair or poor shape, while roads in particular are getting worse. There is strong agreement among participants that U.S. infrastructure is not positioned to respond to the competitive demands of a growing economy.

"This survey clearly demonstrates that our nation's approach to investing in infrastructure is not improving at a pace to keep up with the growing needs of manufacturers and that the United States risks falling behind," said Timmons. "Our outdated roads, ports and inland waterways are in desperate need of repair and continue to add costs and complications as manufacturers move their products to market. The good news is that Congress and the President have a chance right now to address the neglect of our infrastructure and ensure that manufacturing in the United States remains competitive. Manufacturers are counting on Congress to fulfill its well-established responsibility of facilitating commerce in the United States by passing legislation that helps fund ports, inland waterways and other key water resource projects."

"Improving our ports, highways, and bridges is essentially an economic driver. Modernized ports and transportation systems enable American manufacturers and businesses to export their goods to countries around the world, which strengthens our economy here at home," said Governor Rendell. "I hope leaders in Washington seize the opportunity to make the significant investments our country really needs to stay competitive in the global economy, or we risk falling further behind our competitors. There is no better time to invest in America's future."

The unique partnership between the NAM and BAF is made possible by their strong commitment to addressing this nation's infrastructure needs to ensure the United States remains globally competitive.